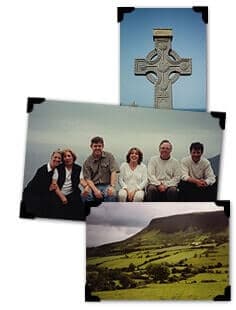 Our Heritage
The Celtic Clothing Company is based in Chester County just South West of Philadelphia. It is the brainchild of Charles Lord, a native of Belfast in the North of Ireland.  Charlie has a background in business and education.  In addition to owning and operating the Celtic Clothing Company, he teaches Web Design and Digital Marketing at a public High School in the western suburbs of Philadelphia. He has been the Department Chair of the Business Faculty for 20 years and supports his students in their endeavors in the digital age.
His Business & Education qualifications are as follows:
BA (Hons) in Business Studies
— Derby University, England.
A Diploma in Business and Finance.
— Manchester Metropolitan University, England.
Masters Degree in Business Education
— Temple University, Philadelphia, USA.
However, Charlie often says his greatest accomplishment is his marriage to Janice Pietrowicz.  Janice is a native Philadelphian, proud of her blue collar, Polish background. Janice has an extensive background in education spanning over 30 years.  She has a Bachelor's Degree in Education, a Master's Degree in Counseling and has also completed her Doctoral degree.  Janice has been a Certified School Psychologist for over 20 years and is known as "Dr.J" to her colleagues.   Together Charlie & his wife Janice have given a combined 50+ years of service to public education in the United States and have used their business experience to provide practical advice and guidance to the many students they have had the pleasure of teaching over the years.
Together they have two teenagers who are active in sports and spend summers in Ireland keeping the connection to the island close to their hearts.
Here is an article about CelticClothing.com that appeared in IrishCentral.com, the largest Irish newspaper in the United States.
Another Celtic Clothing Article from a Philadelphia based magazine.
CelticClothing.com is honored at an award ceremony in New York at the Irish Entrepreneurship Awards.
You can read a brief history of our company in this article from the business section of our regional newspaper.
Support American Small Business