Charlie Lord & his company Celtic Clothing bring the best of Ireland to lucky customers in North America.
Chadds Ford resident and Irish native Charlie Lord – owner of the online business CelticClothing.com – will often forgo Route 1 and instead drive the back roads from his home in Chadds Ford to the company warehouse in West Grove, PA.  For Charlie, the rolling hills and rural splendor of the Brandywine Valley transport him back to his native Ireland.  "When I drive along these country roads and see the horses and the sheep, it looks like Ireland to me.  It looks and feels right.  This feels like home."
For more than 25 years, Charlie and Celtic Clothing have brought a piece of Ireland to many Irish Americans with authentic and handcrafted traditional Irish apparel, accessories, and gifts.  Years ago, Charlie was inspired to start the company while pursuing his business degree in England.  "I did my entrepreneurship thesis on selling Irish products to the American market, and I thought, "This might actually work".  After his immigration to the United States in 1987, and subsequent marriage to Philadelphia native Janice Pietrowicz, Charlie's vision became a reality.  In 1995, he started Celtic Clothing, harnessing the emergence of e-commerce, and hasn't looked back since.
Although Charlie's background is primarily in business and not fashion – he holds a masters degree in business education from Temple University – selling clothing is a big part of his family's heritage.  "I leave style to the designers, that's what they are passionate about; I do the business part.  My grandmother and mother used to make women's clothes back in Ireland.  My grandfather died relatively young, so my grandmother had to work to feed all eight kids, my mother was the eldest girl so she helped too, " he recalls.  "As a little boy, I remember going to the markets with my mother and grandmother and I would sit behind the market stall.  So there's the family historical connection that I take pride and honor in."

It's this same connection to the motherland that many Irish Americans discover at Celtic Clothing, "Our customers want something that's authentically Irish," says Charlie.  The company website offers everything from wool sweaters, tweed vests and hats to wool blankets, authentic Guinness merchandise, and traditional Irish jewelry, like Claddagh rings.   "These things are all identifiable with Ireland," explains Charlie, "You are literally wearing your Irishness on your sleeve when you wear one of our products.  They are an expression of Irish identity."
A best-selling product for men is the quintessential tweed flat cap.  "It's a very popular look," says Charlie.  "It's a hat that looks good on everyone.  Ireland is very well known for them, and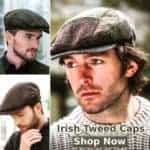 it's a must-have for every Irish American wardrobe."  For women, Charlie recommends Irish knitwear, like traditional Aran wool sweaters, capes, cardigans, and wraps.  With their timeless design and quality construction, they will be wardrobe staples for years.
Charlie sources merchandise from all 32 counties of Ireland – like County Tyrone, Donegal, Mayo, Kerry and Dublin – and is on a first name basis with the Irish manufacturers.  "I go back home to Ireland at least twice a year,  and I will go to the places where the items are made.   I have the ability to source authentic products, and that's a real key factor for my Irish American client base."
After 20 years serving as Dept Chair of the Business Faculty,  Charlie took early retirement from teaching in June 2021 in order to dedicate all his time to the company.  Despite the challenges of Covid-19, Charlie says that business is booming.  "With everyone ordering online during the pandemic,  business actually improved, although it's regrettable given the circumstances.  Obviously, we would much prefer that everyone was healthy and safe."  Celtic Clothing ships products daily all across North American from its warehouse in West Grove, PA – just south west of Philadelphia.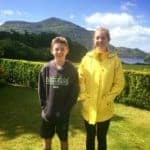 During the summer months – when the Lord family travels to Ireland to visit family (and source new products) – Charlie and Janice's children, Grace and Connor, both tag along.  They enjoy learning about the family business but also discovering more about their Irish heritage, keeping the Celtic tradition close to their hearts.
When asked what impact being an Irish immigrant has on his business, Charlie is quick to respond. "It's no coincidence that I'm working in Irish fashion, because it gives me the opportunity to keep in touch with Ireland.  It's something that I know, understand and enjoy.  I'm constantly on the phone with people in Ireland, working with Irish designers,  manufacturers and distributors.   As an immigrant, the desire, motivation and enthusiasm to keep that connection with Ireland makes this not feel like work at all."
Charlie is now retired from his career as a Business Teacher,  but his wife Dr. Janice Pietrowicz still works as a school psychologist.  Together Charlie & Janice have given over 50 years of service to Public Education in the United States.  
This article was written by Katie Gildea for the Chadds Ford based Junxion Magazine.