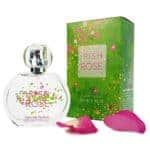 Irish Rose Eau de Parfum  is a soft and lovely floral fragrance that takes the freshness of a sea breeze and delicately adds the fragrance of rose and spring blossoms.  The scent blends five varieties of roses: Lily of the Valley, patchouli, palest pink geranium, and apple blossom to create a floral fragrance that has the energy of the sea and the freshness and vitality of a garden in full bloom.  Another wonderful addition to our Fragrances of Ireland collection.
Over the past few years we have added several new Irish perfumes that women would appreciate, and I think we really hit a home run with this one.   I recently stopped a woman in the store as we passed each other several times and asked her what she was wearing.  Well, this is one of those scents.  It is a scent that leaves a positive impression.
Perfume Product Care:
Did you know that perfume should always be stored in a cool, dry place, away from direct sunlight or heat.  A dresser drawer is a good choice. Do not keep fragrances in the bathroom, where fluctuating temperatures and high humidity can lead to their deterioration. Keep perfume bottles tightly closed, to prevent evaporation, which can change the balance of a scent's composition. This is one item you will use daily and always feel confident and fresh wearing it.